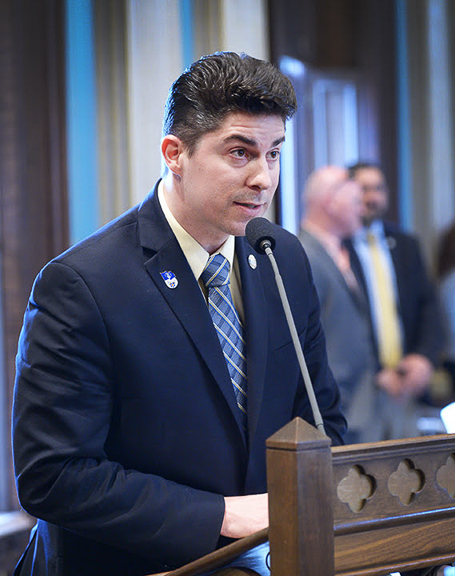 Sen. Michael MacDonald
Currently, the State Transportation Commission can issue bonds without any meaningful discussion with the Legislature — regardless of how much debt they decide to dump on Michigan taxpayers.
A few months after the governor vetoed nearly $400 million in funding increases to help fix local roads and bridges, she used the commission to push through a $3.5 billion road bonding scheme.
According to the Michigan Department of Transportation, the governor's bonds will cost taxpayers $5.1 billion to pay off over the next 25 years. Even worse, the proceeds from the bonds will only improve 2.5 miles of M-53 and 4.4miles of M-59 in the 10th District — none of the funds will go to fix local roads that are the most in need of repair.
The idea that an unelected state panel has the power to unilaterally saddle future generations with billions of dollars in debt payments is not how our system of government is supposed to work.
The people of Michigan and Macomb County expect better and deserve better.
That is why I recently supported reforms to put in place checks and balances regarding how our state prioritizes taxpayer dollars when it comes to bonding.
The Legislature is the most direct representation citizens have in Michigan, and our state Constitution clearly intended the Legislature to be involved in transportation bonding decisions.
Senate Concurrent Resolution 22 would clearly define the Legislature's intent for road bonding and outline how much we're willing to spend on debt payments.
We should not exceed current levels of spending on state debt and no transportation bonds should exceed the expected life of the road. Some of the highways to be addressed by the governor's bonds will need to be repaired again before her bonds are paid off.
SCR 22 says the Legislature's intent is not to increase future debt service spending beyond fiscal year 2020 levels and not to authorize debt service spending on bonds longer than 10 years.
Senate Bill 716 would also require the State Transportation Commission to notify the Legislature of its intent to issue over $100 million in transportation bonds at least 30 days before authorizing the bonds. The bill would then give the Legislature the ability to reject those bonds within 30 days.
SB 716 would allow the commission to issue up to $100 million in transportation bonds using the current process to protect the state's ability to respond quickly to an infrastructure emergency.
Michigan families want an affordable solution that fixes the roads now and for decades to come. Clearly, the governor's plan to max out our credit cards isn't a long-term roads funding plan.
Until the governor and the Legislature reach an agreement on a responsible plan to fix the roads, these bonding reforms are needed to protect Michigan taxpayers from runaway debt.
Sen. Michael D. MacDonald, R-Macomb Township, represents Michigan's 10th District.